Hi everyone,
We're revisiting how we communicate the amount of greenhouse gas emissions prevented through repairs at events and I'd love to hear your thoughts on how we can do this better.
While we've got pretty good calculations in place, we think we can do a better job helping people understand exactly what 'we saved x kg of CO2e' actually means.
What does 'CO2e' mean? (click/tap to expand)

Carbon dioxide (CO2) is the most famous greenhouse gas driving climate change, but there are others too, such as methane. These different greenhouse gasses have different properties. For example, methane traps much more heat than carbon dioxide, but breaks down more quickly in the atmosphere. So, to express the global warming potential of a mix of these gasses, we compare them all to the impact of carbon dioxide over a set period, usually 100 years. This is expressed as 'carbon dioxide equivalent', or 'CO2e'. For more detail, the Guardian have a useful explainer
At the moment we compare the amount of CO2e saved by your event or group to an activity that produces greenhouse gases, such as driving, watching TV, or manufacturing sofas.
Here's an example from @Stuart_Ward's latest event with Reading Repair Café and then for Reading Repair Café as a whole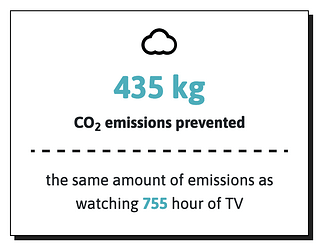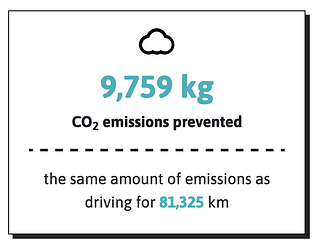 (Note: we're aware of 2 problems with the 'hour of TV' bit: 1. it should be 'hours' and 2. actually, it should be days of TV! That is now fixed on the site - this screenshot is old!)
These 'equivalencies' need updating as the data behind them is quite old now.
But before we do that, I'm curious to hear from you…
Are these equivalencies useful for you? Are they easy to understand and do you actually use them to talk about your group's environmental impact?
And secondly, how do you feel about comparing your emissions savings to activities that produce greenhouse gases (like driving)? We're considering switching to activities that absorb or prevent greenhouse gases instead, such as planting trees.
For example, here are two options:

Our event saved 435 kg of CO2e, the same amount of emissions produced by watching TV for 755 days non-stop.
Our event saved 435 kg of CO2e, the same amount as growing 7 tree seedlings for 10 years.
Which do you prefer?