Hi everyone

We're adding a new section to Restarters.net and we need help deciding what to call it!
Over the last year or so, you may have taken part in the microtask activities we've made, like MiscCat, FaultCat or MobiFix. These tasks help us collectively analyse the repair data in the Fixometer to provide insights we can then feed into policy discussions around the Right to Repair.
For example: our work on why computers break was featured in The Sunday Times
We're now making a dashboard for these microtasks and those we create in the future. The dashboard will list the tasks that are currently active and allow you to track your contributions to each. There will also be a section highlighting the impact these tasks have.
Here's a rough idea of what it will look like: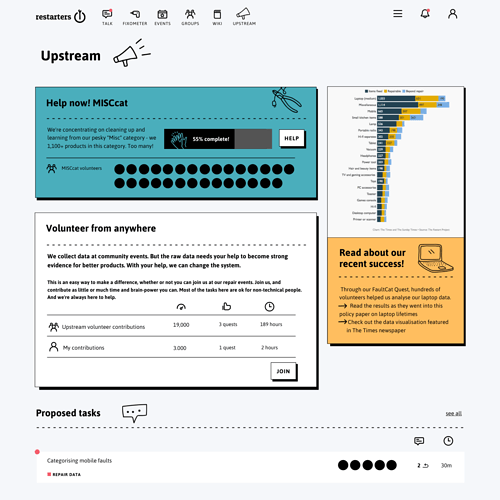 The question is, what should we call this dashboard?
We'd love a name would help people intuitively understand what we're trying to do (and how). It also needs to be short (ideally one word) so that it fits into the interface. We also need to consider how to translate it into other languages.
Our working title is "Upstream" - a reference to magnifying our impact by affecting change higher up in the design and manufacturing process of the products we see at events. But is this too obscure a metaphor? Is it easy to understand? Would you click on 'Upstream' in the menu?
Here are some of the names we've considered:
Upstream
Crowd / Crowdsource
Change
Action
DataFix
DataTinker
Microtasks
Do you like any of these names? Can you think of any better ones?