The repair data we all collect at our community repair events can be incredibly powerful. Not only can we use it to measure our environmental impact but also to advocate for more repairable products and pro-repair policies. By analysing the data we all record, we can learn more about why products break and how they could be made easier to fix.
This is exactly what the Data Workbench here on Restarters․net is for.
The Data Workbench let's you dive into the repair data collected by the whole network though a series of simple microtask activities. Each microtask is designed to investigate one specific aspect of repair or a particular type of device.
For example, our MiscCat

microtask was focused on putting devices seen at repair events into categories. Our MobiFix

microtask investigated why smartphones break.
While some experience with repair is often helpful, you don't need to be an expert to get involved. Head to the Data Workbench to discover the latest activity!
The workbench lists the quests (i.e. microtask activities) that are currently active and allows you to track your contributions. There is also be a section highlighting the impact this analysis has.
Here's how to find your way around the page: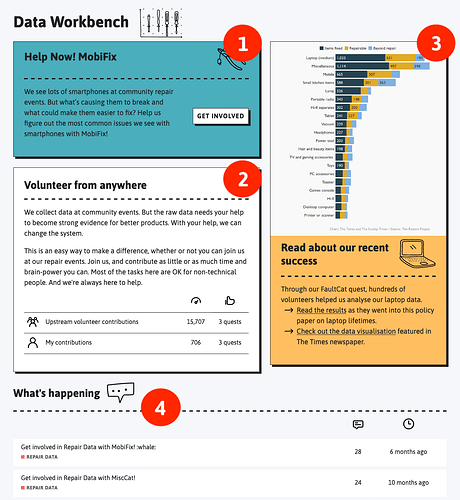 This top section tells you all about the latest quest. Click on 'Get Involved' to try it out!
Below the latest quest, the 'Volunteer from anywhere' section explains what the Workbench is for. It also keeps track of your contributions in the table at the bottom, so you can see how many tasks you've completed.
The panel on the right showcases success stories - how the analysis we produce is used in the media or in policy discussions.
At the bottom of the page, you'll find a list of discussion topics from this forum, Talk. These topics are generally conversations about microtasks we're running or are planning to run. Feel free to get involved!
Want to contribute repair data to the Fixometer for analysis? Find out how