For the full guide on recording repair data, see this topic.
Recording repair data FAQs

Product categories

Repair outcome

Brands

Other information
---
Product categories
Sometimes when logging data it might not be clear exactly which category an item should belong to. While the system should do this for you, it may guess incorrectly. So here are some frequently asked questions on categorisation.
Electric bikes and bike accessories
"We've just fixed our first electric bike, which I think will give us a categorisation problem…"
Bikes are an interesting item in that people bringing in bikes aren't usually looking for a welding job, it's normally a component or accessory repair, e.g. tire or lights, and they are unlikely to throw the whole bike away if the lights can't be fixed. Bike accessories can be powered or unpowered and should therefore be categorised appropriately. For example:
Bike light

Powered
Category = "Decorative or safety lights"
What is it? = "Bicycle light"
Bike battery

Powered
Category = "Misc" ("None of the above")
Weight estimate = 3 kg (or whatever)
What is it? = "eBike battery"
Bike tire

Unpowered
Category = "Bicycle"
Weight estimate = 0.5 kg (or whatever)
What is it? = "Bicycle tire"
Flat screens
"The sizes in the flat screen categories don't go high enough… e.g we're seeing screens 40" and above"
We're looking at updating our flat screen categories, and also looking at alternative ways of recording sizes. For now, please choose the category closest to the size of the screen you have, and if possible record the actual size of the screen in the notes.
Why is there a mix of specific categories and general categories?
"Why are there e.g. specific categories for Kettles and Toasters, but also a general category for Small Kitchen Items?"
When adding new categories to the Fixometer there are a few things to be considered.
Firstly, the Fixometer is used to calculate environmental impacts, for which we need something called a life cycle assessment (LCA) for each specific category of product. LCAs are hard to find for all categories, so for some items we have generic categories with an estimate for that category.
Secondly, too many categories could result in a long list of categories to choose from - this could get unwieldy, especially on smaller devices, and the number of choices can cause confusion resulting in wrong selections and people being put off entering their data when it becomes too much of a chore.
Over time we wish to improve the data collection interface such that you simply need to type in a value for the 'What is it?' and the Fixometer will do the rest in auto-suggesting an appropriate category. Until that time, use the 'What is it?' field to record the actual item, and if/when we do introduce new categories we can use that field to re-assign the category behind the scenes.
Repair outcome
I don't like using the 'end of life' option
As repairers and people passionate about preventing waste, it can feel wrong to mark any item as 'end of life'. What if it could be used for spare parts? Or what if it could be fixed if only you could disassemble it without breaking it? We understand that using this option can feel like giving up!
BUT using the 'end of life' option is really important for exactly these reasons. One of the useful things about recording repair data is understanding the barriers to repair that we find. Marking an item as 'end of life' doesn't indicate that it can't be used for spare parts or upcycled into something else. Instead it tells us that there is something about the item that means it can't go on being used for its intended purpose. If that something is bad design (e.g. if you can't take it apart without breaking it), lack of spare parts, the cost of fixing it etc., we want to know.
Taken together, this information about why products can't be fixed helps us better understand what we're up against and campaign for laws that address these problems.
In short, it can be helpful to think about the 'end of life' option as a way of reporting anti-repair practices by manufacturers and other barriers to repair that you encounter.
Brands
Henry and Numatic
If you are logging a Henry vacuum cleaner, please put Numatic as the brand and Henry (or Henrietta or James as appropriate

) as the model (along with any other model information you might have, e.g. Henry HVR200).
Other information
What are the weight estimates for? How do they work?
Weight estimates help to calculate the environmental impact of the items that have been fixed. We know it is not possible to log the weight for all items, and where possible we use an average value for a product category.
Here's how it works:
For both powered and unpowered items categorised as "Misc" ("None of the above"), impact calculations require a weight estimate.
For powered items with a known category, calculations will ignore any estimate entered, and the weight of the category is always used.
For unpowered with a known category, calculations will look for an estimate first and fall back to the weight of the category if there is no estimate.
How do we log 'repairable' items that are seen at more than one event?
For the time being, we recommend logging items every time they are brought to an event. Here's why…
Only items that are marked as 'repaired' count towards a group/event's environmental impact stats. So if a toaster (or something) isn't fixed at a first event, but is at a second, it will only count to the amount of waste and CO2e saved once.
For the number of items seen at events, it's best to think about the overall stats as the 'number of repairs attempted' - i.e. the number of times volunteers helped someone with a repair, rather than the number of items they attempted to fix.
That said, the number of items that were deemed 'repaired' or 'end of life' should still be pretty accurate, as this assessment tends to be made just once per item.
Can I record multiple items at once?
Sometimes, particularly when using paper forms to record data at a repair event, it is quite common to record multiple items on the same sheet. However, when later recording this data in the Fixometer, we should record this as separate entries. By doing so, each item can contribute correctly to the overall statistics for your event (and your group, and the repair data as a whole).
Multiple items of different types
In some cases it is that one visitor the event has brought multiple items to be fixed - for example this might be logged at the event as 'lamp + cd player' on one sheet. In Restarters, this should be created as two separate items - one for the lamp, and one for the CD player.
Multiple items of the same type
Some events fix the same type of item many times over. For example, this might be logged at the event as '10 bicycles'. To accurately record the impact of this, each of these bicycles should be recorded separately. To help with this, when entering the data in to Restarters, you can amend the number of items that are to be added when creating the item.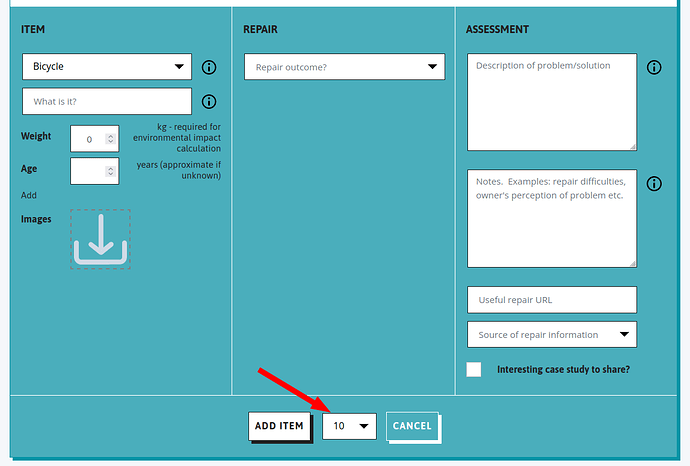 Can I upload a spreadsheet of repair data?
Unfortunately Restarters doesn't support spreadsheet uploads.
From 2019 to 2020, we ran a trial with a small number of repair groups to determine whether this was a feature we could build. While the trial showed some promise, we ultimately decided that the level of technical complexity and the amount of work required were too much for us to build and maintain it as a fully supported feature.
As a small non-profit, we could only consider revisiting this feature if we were to receive significant new funding and technical support.