Sharing this piece that came out in Grist, a really solid overview of the French repairability index
Janet: At least it is a start but to repair we need access to repair manuals giving circuit / wiring diagrams and part numbers / types. I wonder if that can happen?
In days past circuit diagrams were often provided with new equipment and sometimes a diagram would be inside. Oh I wish!! Much of my time repairing is taken up figuring circuits and even when I locate a faulty component it can take some time to decypher and locate a replacement or appropriate substitute.
Just repaired a friends Roberts stream 83i radio. It had a broken aerial. Roberts is a company that does provide a sensible amount of spares, maybe a bit pricy at £11.70 but it saved an excellent radio heading for the bin.
Full marks to Roberts for these efforts - they have a good online spares shop:
https://www.robertsradiotechnical.co.uk/extpartsrequest.aspx
We want more companies like this.
+1 for Roberts, didn't realise. Just checked out the model of DAB Radio that I got my mum for Christmas, and it's £14.35 for replacement aerial and battery cover, delivered. So that's good to know. Do you think this is why the queen endorses them?

Green Alliance (and we) made submissions to the Commons Environmental Audit Committee on lowering VAT for repairs. Their endorsement is getting good press coverage!
It's not a "silver bullet" but could be an important pro-repair step.
Liked the article but I'm not sure cleaning solar panels as in the picture is smart idea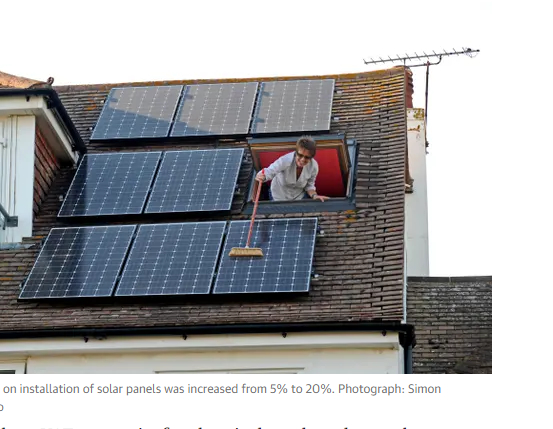 Here's a BBC radio piece with @Jessika_Richter from Malmö interviewed, with a feature on Sweden.
This may be of interest: https://www.ebac.com/wm-which/
The video puts forward some good points about how washing machines are designed and how some best buys are not so eco friendly.
Valid points to think about, are the best buy criteria sensible?
[moderator note: this post has been moved from another topic, and relates to Steve's post above]
Kudos to @Jessika_Richter for her contribution to this BBC News article on the durability of large appliances!

Roger Harrabin (BBC) has a piece this morning about the UK government's plans to implement EU rules for the provision of spare parts and new energy efficiency labels for certain devices, including washing machines, TVs and fridges:
A positive development perfectly summerised by friend-of-Restart, Libby Peake from Green Alliance, who is quoted in the article:
In any case, it's great to see this come full circle. Those of you who were around a couple of years ago may remember our first ever Right to Repair protest in Brussels as these measures were being voted on back in 2019.
Great, on-point messaging from Bedford Repair Café (@katie and Daniel) who were interviewed about the UK government's announcement today

Ah thanks for the shout out James!
Luckily we have a very proactive local news website who want to write about these topics rather than just parking fines.
It was great to also read about the research conducted at Cranfield University.
The Register have also covered this.

The Veritasium channel has a nice piece that gets the importance of Right to Repair, through the history of the light bulb conspiracy and planned obsolescence.
I watched this last night, it's really interesting to see the conspiracy theories were correct!
Shared! Although they REALLY heavily borrowed from The Lightbulb Conspiracy (2010) and only really acknowledged buried in the notes.