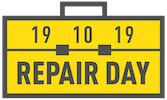 Hi everyone! It's time to start thinking about International Repair Day!
Repair Day is back for the third time on Saturday the 19th of October, which also happens to be the week celebrating the 10th anniversary of the first Repair Cafe!

In homage to Greta Thunberg and the student climate strikers, this year's edition will focus on the need to repair for the climate and for the future.
If you run repair events, please support the day by scheduling (or rescheduling) events for the 19th of October (the 18th or 20th would also be fine). For everyone else, we'll be publishing a list of ways to celebrate the day nearer the time, so save the date!
Massive kudos to @Jessika_Richter, who has already planned an International Repair Day event in Lund!

We've also noticed that Repair Café Plymouth (@Sol_Moyano), Repair Café Portsmouth (@Portsmouth_Repair_Ca) and Reading Repair Café (@Stuart_Ward) have events planned for that weekend too