For groups in the UK, we've created a simple quiz that participants in your events can take while they are attending your events, when they are waiting or cannot participate in a particular part of a repair.
The quiz will collect some simple data about participants — and their motivations — which we can share back with you twice a year.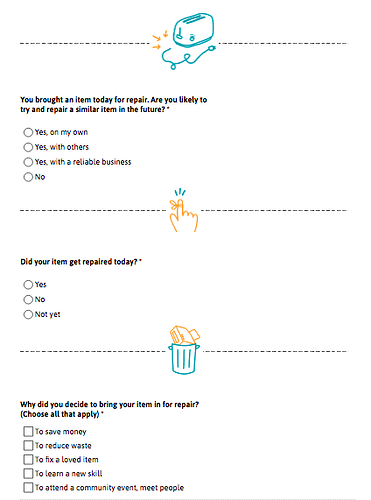 But perhaps even more crucially, the quiz prompts people to consider important questions relating to the Right to Repair. Multiple choice questions include
Gold, copper and aluminium in electronics have high rates of recycling. What is the recycling rate for "rare earth elements" used in electronics?

Less than 6%
10%
38%
Over 55%
I don't know
What information do manufacturers create and then often not share with customers?

Service manual
User manual
Operations manual
Warranty details
I don't know
Over the course of a mobile's whole lifecycle (production, transport, use, recycling) roughly what percentage of its lifecycle energy usage goes into production

5%
20%
50%
80%
I don't know
How long is a vendor of electronics or electrical appliances required to sell spare parts after a product has been sold?

Six months
One year
Two years
There is no legal requirement
I don't know
If you can, download instructions and posters to advertise the quiz here!