If you've visited the Wiki in the last few days you might have noticed an improvement!
We now have Page Previews enabled. For the moment you will mainly see this on references to other articles in the Wiki such as below.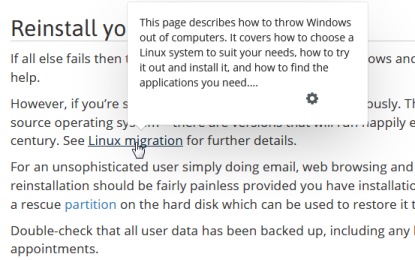 Hover over a link and you will get a pop-up giving a summary of the article, which should give you some idea of whether the link will give you the information you need at that moment.
Possibly more useful, over the coming weeks I'll be adding links to the Glossary for technical terms throughout the Wiki. These will give pop-ups such as this: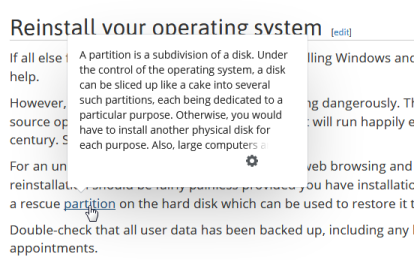 If you look at the Glossary you'll find it's already deeply cross-referenced within itself with the same sort of definition pop-ups. It now contains just under 300 unique definitions, plus a fair smattering of synonyms!
Unfortunately these Page Previews are not available on mobile devices as there is no touch equivalent of a mouse hover.
Thanks to Neil for enabling the underlying technology. I hope people will find this helpful. Should you prefer to switch it off, just click on the gear icon in any pop-up and you'll get an option to do so.