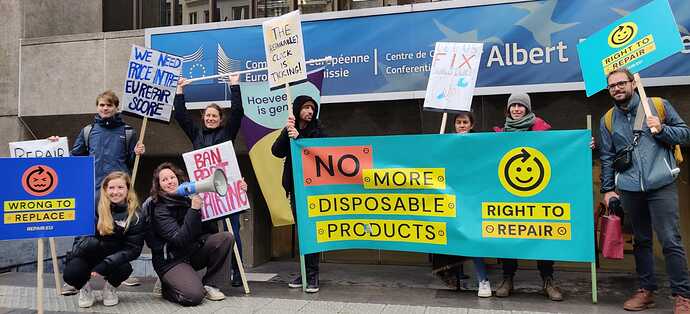 This morning, @Cristina_Ganapini and I joined other members and supporters the European Right to Repair Campaign in Brussels to gently heckle members of a technical EU committee and bribe them with spanner-shaped chocolate.


Why?
National experts met this morning to rubberstamp new EU ecodesign rules for smartphones and tablets. Sadly, these draft rules are fraught with loopholes. In practice, as they stand today, they will not grant a real Right to Repair.
Here's where they fall short:
No accounting for the price of spare parts


The new rules would introduce an EU repair score for smartphones and tablets, similar to the French repairability index. While this sounds good in theory, the proposed rules don't take into account the cost of spare parts (a flaw shared by the French index). The price of parts is one of the main reasons many people turn away from repair. So how can this new EU repair score actually indicate what's more repairable without taking this into account?
Part-pairing can still prevent repair


Through this software technique, components of a device are linked through serial numbers and manufacturers have to grant users access to these numbers to perform a repair or "re-pair" these components themselves. This is a threat to making products more repairable. Learn more about part-pairing here. Yet these proposed rules do nothing to prevent this anti-repair practice.
Spare parts not available to all


Under the new rules, a range of spare parts will become accessible for professional repairers. Good. BUT very few parts will be made available to end-users and community repair groups like us. We should all have the right to get the parts we need to fix the stuff we own!
Inconsistent and limited duration


The current draft rules are inconsistent. Although we could get access to repair information for 7 years, other requirements like spare parts or software updates will be available for a shorter time span. We must have access to what we need to repair our device for 7 years.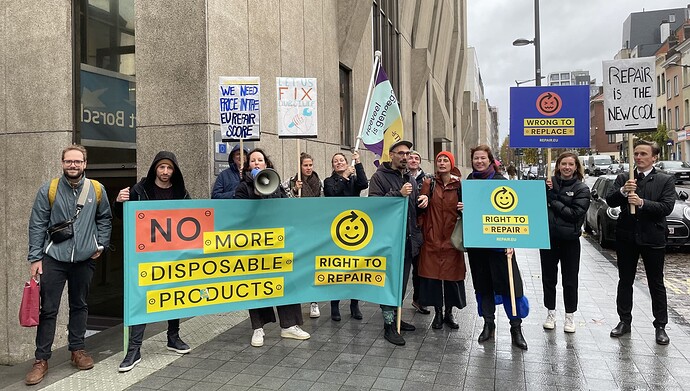 We wanted to show members of the ecodesign and energy labelling regulatory committee that all of us in the wider repair community want them to do better. So as they showed up to vote, we greeted them with encouraging chants, chocolate tools and a list of key asks for the new rules they are helping to design.
We're still waiting to hear the outcome of this morning's meeting. But in the meantime, head over to the Campaign's website for more about these new rules: