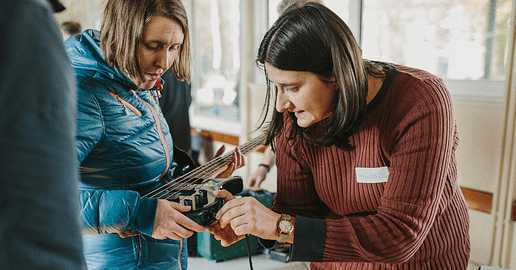 Back in September, we announced that one of Restart's funders has made it possible for us to extend financial support to groups that help other groups get started. We were able to offer a limited number of small grants to groups interested in strengthening and spreading community repair activity in the UK.
After receiving a number of strong applications, we're now delighted to announce the recipients of these grants and share some of the fantastic work they're planning over the next few months:
Share & Repair, Bath

@Lorna_Montgomery and her team in Bath have been going for two and a half years. In that time, they've set up 4 Repair Cafés and a Library of Things as well as supporting another 2 Repair Cafés in the local area. They're now keen to help start up more Repair Cafes in villages outside of Bath, as well as within the town itself, including creating a new group with university students. Share & Repair are also planning 'how-to…' workshops to help spread repair skills among their local communities.
Repair Café Belfast

@CHRIS_MCCARTNEY heads up a team that's been running Repair Café events in Belfast for about two years. As the only community repair group in Northern Ireland, they've received interest from many communities across the country wanting to run their own events. Their focus is helping these other groups get started with the radical act of community repair as well as pioneering a partnership with a local council.
Repair Café Brighton

@Victoria_Jackson and @sam_Jarman lead an experienced group in Brighton. Since their first event seven years ago, they've helped a handful of new repair groups get going. Now they plan to consolidate their own position and transform their experience into more comprehensive support for new groups in the area. As part of this work, they would like to produce more video content and link with charities working with vulnerable groups.
Cambridgeshire Carbon Footprint

@Nicole from Cambridgeshire Carbon Footprint represents a large network of Repair Cafés across Cambridgeshire. They have sparked around 17 Repair Café groups across the county and several beyond since starting five years ago. With this funding, they intend to add educational elements to their events, recruit more repairers for the network, train people in how to start new groups and create a few new groups themselves.
We're incredibly excited to be working with all four initiatives and look forward to sharing what we all learn through this process.
If your group is based in England and interested in applying for a small grant from Restart, we have more available now!