It's hard to believe it's been about a year since we all had to suspend our in-person repair events. Since then, lots of us have tried to keep community repair going online and it's been inspiring to see people trying out lots of different ways to make repair work remotely.
But I think it's fair to say that one thing we've all struggled with is finding the right technology to make remote repairs work well, especially outside of live events.
So to fix this, our Belgian friends and partners at Maakbaar Leuven, Statik, Repair Together (@RepairTogetherTeam) and Repair & Share have created a new online tool specifically designed for community repair groups who want to help local people fix their broken possessions remotely and outside of events.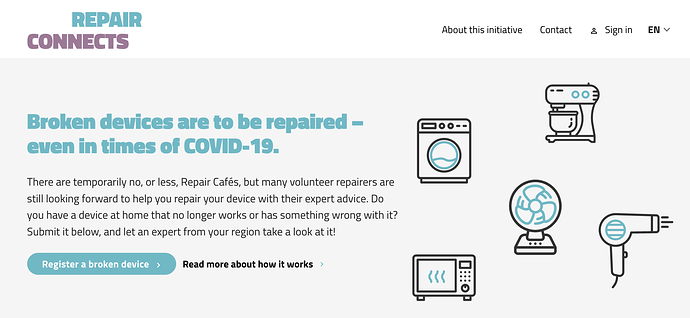 Repair Connects allows community repair groups to accept requests for repair help from the public. Each request received can be claimed by one of the group's volunteer repairers, who can see the details about each item and then get in touch directly with the item's owner to help them fix it themselves.
How does it work?
The owner of a device registers the device via the website.
Registered repairers receive a weekly email with all registered devices.
Registered repairers can view the list of devices and select the ones they are interested in.
The owner of the device receives a message that a repairer has selected their device and will contact them.
The repairer receives the owner's contact information and contacts them by email or phone to help them remotely.
Would you like to try it out?
While the tool isn't designed to be a replacement for Restarters.net, it does aim to complement it by expanding what you can do online. The experiments done with Repair Connects might also help us improve the way we collect data about devices repaired at community events. We eventually hope to connect the two platforms to provide a more seamless experience and sync repair data to the Fixometer.
But in the meantime, the Repair Connects team is actively looking for community repair groups to help trial and improve the tool. So if your group is already running a remote repair service during lockdown (or is considering one), please do get in touch!
If you're interested, simply reply to this topic and we can help

Want to know more? Just ask…
@Stephanie_Heylands - Stephanie is overseeing the development of the tool at the development agency Statik. She can answer questions about how it works and help get you set up.

The Repair Together Team (e.g. @Jonathan_Vigne) have been using the tool and may be able to share their experience too
---
Repair Connects is part of the EU-funded project Sharepair: digital support infrastructure for citizens in the repair economy. This Interreg project aims to take repair to the next level with online repair guides, a central repair data tool, 3D printing of spare parts, and many other actions to move towards sustainable and circular cities.