Hi everyone

We've been thinking about ways to make entering repair data from events into the site a bit easier. One of the ideas we've had is to allow you to add data from the moment you create the event, even if the event hasn't happened yet.
What are we planning to change?
Currently, the interface for entering repair data to an event is only displayed an hour before the event starts. Here's how it works at the moment: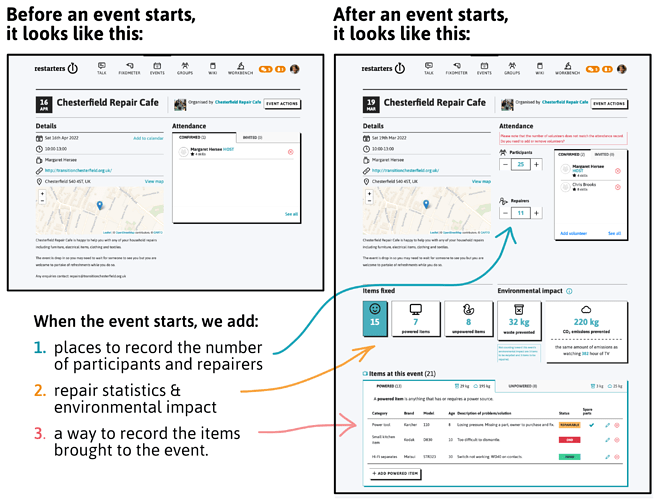 Click/tap here for a text description of the image above

When you first create an upcoming event, we only display the basic information about the event (e.g. date, time, location, confirmed & invited attendees…). When the event starts, we add: places to record the actual number of participants and repairers, a way to record the items brought to the event and finally, repair statistics & environmental impact
The idea would be to display everything as soon as you create the event, even if the event hasn't happened yet, i.e. the event page as it appears on the right in the image above.
Why are we thinking of making this change?
We've heard from some of you that it can be a bit confusing when you first create an event, as it's not clear where you'll need to enter data during or after the event. Making everything visible straight away could help make it less confusing.
We also know that many of you now use booking systems for your events, where you often ask participants to let you know what item they plan to bring. Allowing items to be added before the event would allow you to start adding information about items before the event even starts, giving you a head start on your data entry.
But what do you think?
We'd love to hear what you think about this. Do you think it's a good idea?
While it might sound like quite a simple change, we also need to think about when an event's stats (e.g. repair stats, environmental impact, numbers of volunteers and participants…) should be added to the group's stats. We think that we should only add an event's stats to your group's overall stats after the event. Does that make sense to you?