Yesterday, @ugo and me went to visit local computer repairer AGT UK - some of you might remember Karl and Thompson from International Repair Day! A brief walk away from our office in Brixton (South London), AGT is located in a railway arch next to several car repairers.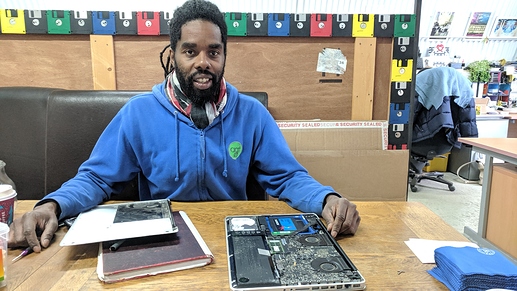 Business owner Karl welcomed us and showed us around. AGT covers a wide range of services, from IT support to network installations and data recovery. But the largest part of the work they do is in repair. While we chatted to Karl, their employee Thompson was busy working on a MacBook.
Karl explained that they mainly work on apple products, but they see changes in the sector: Older models are repairable and it is easy for repair businesses to replace individual components. In newer MacBooks however, components are soldered into the device, making it nearly impossible to replace them. This does not only reduce the repairability of the product, but it also makes it harder for repair companies to deliver quality work and satisfy their customers. According to Karl, even data recovery becomes significantly harder if the SSD is soldered into the device. These practises of manufacturers might endanger a whole industry.
Nonetheless, Karl believes in the future of repair. That is why he regularly offers apprenticeships to young people who are eager to start a career in IT. You can see more about it in this video they made:
AGT also enjoys to reach out to the wider community. In the past, they cooperated with a mental health charity and ran workshops and tech clinics to educate the public.
It was great to hear that the business is motivated to engage more people in repair. We are looking forward to be cooperating with them in the future!