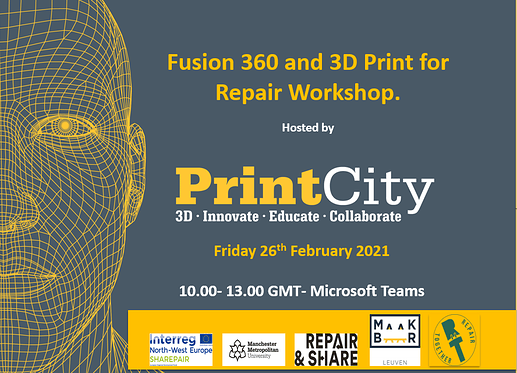 Our friends and partners over at Manchester Metropolitan University, Repair Together and Repair & Share are running a free, online workshop about 3D printing and repair on the 26th of Feb.
The session will include:
A introduction to Fusion 360 for Repair hosted by Edmund Keefe and Peter Gough, Senior Lecturers in Industrial Digitalisation.
3D Print for Repair, a presentation on 3D print technology, processes and materials by Gary Buller, Technical Team Leader at PrintCity.
If you'd like to go along, here are the details:
When?
Friday, February 26, 2021 10:00 AM (TZ) for 3 hours
(tap the date/time above to see it in other time zones)
Where?
This workshop will take place on Microsoft Teams.
You can access the workshop on the day by clicking the button below (you may need to download and install Microsoft Teams):
Join the workshop here
Preparation
Attendees are highly encouraged to create a free Autodesk Fusion 360 account in advance here: https://accounts.autodesk.com/register