Welcome to the Restart Party Kit! (part 2)

Running a repair event can seem daunting, so we've put together this kit full of information, resources and guidance on how to make your event a success.

Contents

1. Host a repair event in your community
2. How to run a repair event (you are here)
3. Measuring the impact of your event
4. Safety & Managing Risk at your event
Recipe for a Restart Party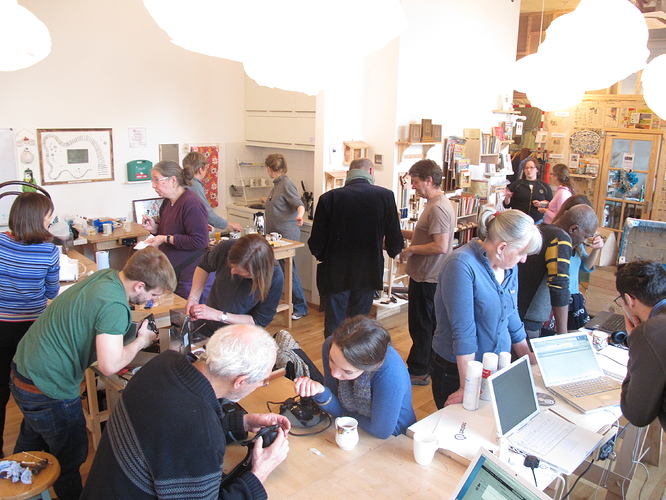 a Restart Party in action
Serves 30 – 40 people
Prep Time:
Organizing a venue (including location scouting) – 3 hours
Recruiting and publicizing – 2 hours
Fixing Time:
3 Hours (no new fixes during the last hour)
Method
Set up the space to maximize flow of people, and interaction between volunteers and participants.

Hosts greet people, ask questions about a device to determine what is wrong, and check in repairs on a public waiting list.

Hosts match repairs with volunteers with the right skills, and volunteers set up and begin repairing. Where possible, cluster repairs, for example, all mobiles in one area.

While waiting, people snack, chat, or learn more from printed materials. It helps to provide a waiting space.
Ingredients
A good venue (see below)
Basic tools
Extension leads
Masking tape for extension leads
A waiting list (poster / whiteboard)
Wayfinding signs
3-4 Restarter volunteers
2 Party hosts
Name tags or name badges
Tea, coffee, drinks and snacks
Venue
5 large tables and chairs
Adequate power outlets
Decent lighting
WiFi or mobile internet access
Accessibility
Access to toilet
Tools & Supplies
Restarters in London have compiled a list of suggested tools and supplies on the Restart Wiki. You do not need to have everything on the list to conduct a successful Restart Party, but every bit helps. This is very much a work in progress: if you have additional suggestions, please get in touch.