Many groups do not want to use a "scroll". Some collect data on a table - see Leicester's scroll/form hybrid (@Divya_Pujara @Marie_Lefebvre), but they told me they want to move to using an A4 form per participant.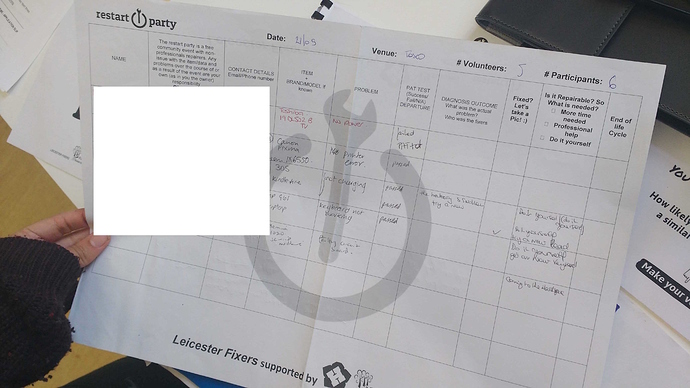 Nottingham (@Sarah_Maloy) and Barcelona (@Stephan_Fortelny) created their own Google Form. Also noting that Repair Cafe International encourages groups to use forms, also as a disclaimer. (In Barcelona it is used for pre-registration but this might be slightly more problematic in terms of dealing with no-shows…)
In Nottingham this weekend, they were trying to register stuff directly as it arrived. This was an experiment and seemed to initially create a queue out the door. I will try to debrief organisers about this. No matter how the outcomes were noted, data entry into the Fixometer represents a duplication of efforts.
I know @Dave has thoughts/experiences attempting live data entry.
Needs for live data entry at events - beyond styling/interface
• Addition of a name field (that would get scrubbed post-event?)
• Reminders about the need for safety testing (of relevant categories)
• A way of easily entering comments and repair status after having entered all the rest - perhaps a way of visually flagging what is unfinished as the event progresses?
Please let us know what is missing from the list above, and you can vote on this feature if you feel it's really desirable/urgent